Point-Of-Use (POU) media
Cleanit®-POU
Höganäs Cleanit®-POU is a 100% sustainable, 100% recyclable, iron-based media that quickly and permanently removes arsenic, chromium, lead, selenium, and other heavy metals from home drinking water. Höganäs' Cleanit-POU media is specifically formulated and manufactured to ensure maximum treatment efficiency when incorporated with other media in carbon block point-of-use / point-of-entry (POU/POE) filter elements. Trust water filters with the Cleanit-POU label to ensure the safest and healthiest drinking water for your family.
Contact us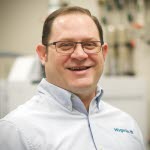 Sales & Technical support
Contact your sales representative for more information and requests.
Contact us
Technical area:
Water treatment
{{country.text}}
Sales Technical support
{{contact.name}}
Sales Representative
{{contact.position}}
{{contact.name}}
{{contact.position}}