More Höganäs – our values and principles
More Höganäs is our management philosophy. It includes our vision, our values and our principles for how we lead and how we work. The philosophy is there to guide us in our everyday work towards a sustainable business, where everyone can grow and develop. As a company, Höganäs makes a difference through our metal powder solutions and know-how.
Our vision: Inspire industry to make more with less
Metal powder technology provides endless opportunities; not only does it enable our customers to reduce their material and energy consumption, but it also helps them to use new and better techniques that make final products more efficient and less expensive. In short, metal powders are a resource-efficient alternative, suitable for many industries – that's one of our contributions to a sustainable world.
Furthermore, with metal powder solutions, we can contribute to solving many of society's pressing challenges, such as resource scarcity, shortage of clean water and the need for renewable energy.
Our vision to "Inspire industry to make more with less" is based on the firm conviction that the inherent power of metal powders can be utilised in industry to a much larger extent than it is today, and that metal powders can contribute to sustainable development.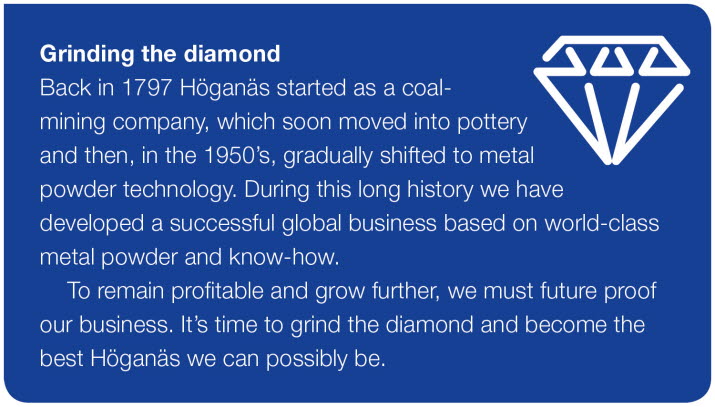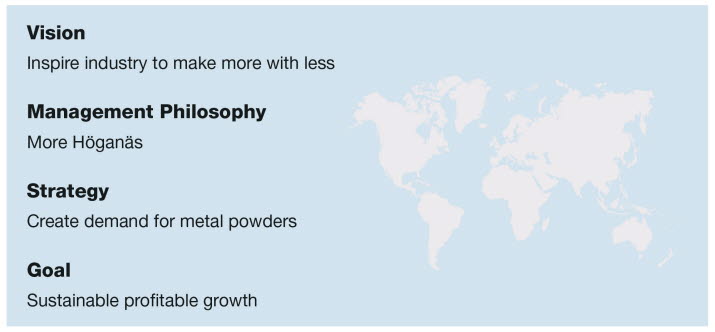 Our values
Our values define what we stand for and what others can expect from someone working at Höganäs. We have four values, one for each key stakeholder: Customers, Co-workers, Owners and Society. The stakeholders all have vested interests in Höganäs' business and development. To be able to deliver on our vision, "Inspire industry to make more with less", we must understand and balance their needs. Furthermore, when the owners', customers' and society's needs, e.g. for better products and increased profitability, coincide with our co-workers' development, then everyone is a winner.
Customers: We focus on customer success
We listen to and understand our customers' and their customers' wishes and requirements and what value they are looking for. We utilise this knowledge to invent better solutions for existing needs and keep customers ahead of future challenges.
We make sure everyone's competence and ability contributes to our customers' success. To keep finding new improvements and solutions for customers, we are constantly on the move, leading business change throughout the value chain.
Co-workers: We respect and believe in each other
We talk openly and honestly and listen to all ideas and opinions. Feedback is welcome as we see mistakes as opportunities to learn. We acknowledge everyone's talents and encourage each other to contribute to solutions. We understand that we all carry individual as well as team responsibilities and that we, through collaboration, reach greater heights.
We never compromise on our own or others' safety. Each of us helps build a workplace that makes us look forward to getting out of bed in the morning – a workplace that's inspiring and where we have fun together.
Owners: We create long-term value
The Höganäs brand represents long-term, reliable business. As the market leader, we embrace our responsibility to develop and expand metal powder technology. We are relentless in finding new markets for metal powders and new ways to add value throughout the value chain and in society at large. Internally, we create long-term value by improving all our processes and becoming more efficient in our daily work. We continually reinvent the metal powder business to secure continued growth and profitability.
Society: We walk the sustainable path
Sustainability is a natural aspect of our everyday business, and we encourage and empower all co-workers to create a more sustainable business and society.
At Höganäs, we aim to go above and beyond what regulations require us to do for the environment. We find ways to make every community we're a part of a healthy and respectful place to live. With our profitability, products and know-how, we truly believe that we can contribute to the transition to a sustainable society. Engagement, openness and transparency are our guiding principles.
Our principles: How we lead and how we work
Höganäs aspires to be the world leader in metal powder technology and become an influencer in the markets we target – this is our bold ambition. To succeed, we rely on everyone's leadership and commitment. Our leadership principles are there to help us build an agile and sustainable organization and leadership, where everyone can be involved and create meaning, not only for ourselves but for all our key stakeholders. Höganäs' success is built on us all taking that responsibility.
Our principles for how we lead are founded on how we look upon individuals and teams, as expressed in our co-worker values. We respect and believe in each other.
At Höganäs, we have defined four principles for how we lead:
1. We are all leaders: No matter where in the organization we work, we are responsible for leading ourselves.That means taking responsibility for our assignment, our own performance and development, and being a good colleague who supports others to grow and develop.
2. We all have potential: We believe in everyone's potential and ambition to take on responsibility and contribute to both our workplace and our business.
3. We learn and develop: As Höganäs co-workers, we perform and develop our work as individuals and in teams. We understand the importance of learning new things and developing our competence – this benefits both ourselves and the company.
4. We are interdependent: We acknowledge that we are interdependent and understand that we need to collaborate for the good of Höganäs. Therefore, our way of leading aims to inspire everyone to take responsibility, work together and develop competence.
Our principles for how we work guide us in making the right decisions in our daily work. They aim to reduce waste and increase customer value in all processes.
Höganäs' work principles are:
1. Right from me, you know what you should deliver and that you never pass on an error to a colleague. When a deviation occurs, we see it as an opportunity to learn and improve. We analyse the root cause and change our standard to make sure that the problem does not reoccur.
2. Just in time is about producing only what is needed exactly when it is needed, and creating efficient flows with minimum waste and maximum value creation. An efficient flow is based on customer demand.
3. Continuous improvements and standardisation flourish where everyone is engaged and taking the lead to carry out their tasks according to agreed ways of working, as well as developing how the work is performed.
4. Minimise waste, which means identifying activities that do not create value and eliminating them. For example, by minimising the use of resources through sustainable ways of working and continuous improvement.