Climate Roadmap 2045
Our objective is to become a climate neutral operation by 2045. This is a huge challenge, but it is necessary. To minimize our climate footprint, we need to utilize both established and newly developed methods. We also need to invest in research and innovation to make improvements beyond what is possible today. At present we focus on improving energy efficiency, transitioning to use renewable energy in production and transport, replacing fossil process coals and rethinking our materials supply.
Our Climate Roadmap 2045 was approved by Group management and launched in 2019. It is based on our objective to become net climate neutral by 2045 and aims at decoupling earnings from climate impact emissions. The scope is both our direct and indirect emissions and includes our material and energy supply, our production processes, research and development plans and business models.
The Roadmap will be our guide to the strategy and business planning processes, where our three main strategic areas for reducing climate impact will be:
Reducing emissions by
increasing energy efficiency
Using more recycled materials
to decrease upstream emissions
Increasing the use of renewable energy and fuels
A key success factor for reaching our long-term goal is to fully integrate climate related targets in our internal business plan process. The integration of the Climate Roadmap 2045 into our ways of working in the product areas and in long term R&D, as well as in capital investment plans, is crucial to creating value. Governance and consistency are necessary to empower the organization to move forward and take decisions.
We are acutely aware that our success is highly dependent on external factors such as:
Co-operation with suppliers, customers and other business partners in our value chain.
New or improved technical solutions in areas ranging from process technology, schemes for reclaiming material and material separation, supply of energy from renewable sources at commercially viable costs, transport ­possibilities and more.
Business models that support decoupling of earnings from climate impact both for us and for our customers.
Intergovernmental incentives and agreements as well as local and regional regulation that support service and industry sectors as well as individual companies under transformation with possibilities for an intact or improved competitive edge.
The Climate Roadmap does not supply detailed instructions for the entire journey towards climate neutrality, but it gives a point of departure, a clear direction, the required speed of progress and the tools for each part of the organization to find ways to do their part. Even though we have a challenging journey ahead, we feel confident that we are on the right track.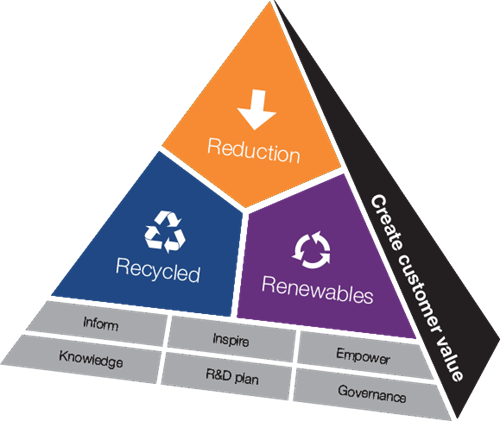 During 2020 we will run a Climate Roadmap Project to give us a kick-start. It will focus on identifying and creating ­capabilities within the company to achieve our long-term goal of being climate neutral by 2045. This project will establish the internal platform for implementing Höganäs Climate Roadmap 2045 by:
Creating awareness and buy-in
Acquiring reliable climate data in all scopes
Planning long term for R&D and investments
Making the organization decisive by providing
clear direction and tools
Identifying competence gaps and establishing efficient methodologies
The outcome of this project that will be available in late 2020, and will likely lead to our internal short-term goals and action plans being revised. Based on the early stages of this development work, we choose therefor not to communicate any detailed short-term goals in this report.

The findings will enable prioritizations concerning development of new and/or improved products and process technologies, investments in process equipment, community development and access to renewable raw materials. This in turn will secure our ability to create value for our stakeholders and to remain profitable long-term.