Solutions
Cleanit® electrocoagulation process offers simple, cost effective treatment and recovery solutions for metals production, plating and finishing industries worldwide.
Cleanit®-EC electrocoagulation process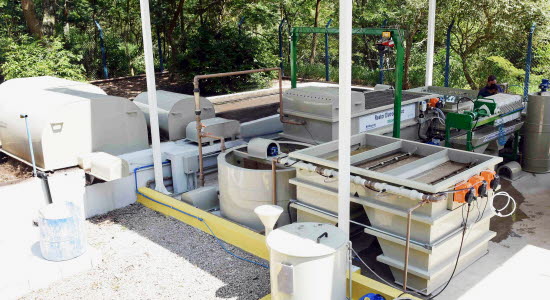 Höganäs Cleanit®-EC systems offer high-performance and cost-effective removal of single or multi-contaminant wastewater containing silica, metals, dyes, or challenging organics. Our advanced electrocoagulation process featuring Höganäs Cleanit iron-based electrodes delivers safe, simple, and reliable operation for the most challenging industrial wastewater.
Cleanit-EC systems operate by passing an electrical current across Höganäs' innovative porous metal electrodes that are suspended in the process flow. The use of porous metal electrodes increases the active surface area in the system, thereby substantially increasing process efficiency. Coagulated contaminants form flocculated solids which are then efficiently settled, concentrated, and removed for disposal. Because Cleanit-EC systems operate based on real-time treatment demand, they offer extremely cost-effective treatment for high-strength or widely varying process streams.
Cleanit-EC electrocoagulation process advantages
High-efficiency, on-demand physical-chemical treatment process
Efficient removal of dissolved metals, dyes, silica, and recalcitrant organics
Real-time generation of high-potency coagulant
Flexible / Scalable process design
Easily integrated into existing process systems
Ultra-High efficiency / long-life ZVI-based electrode elements
Simple electrode exchange
Reduced need for onsite chemical storage
Small footprint
Contact us for Cleanit-LC process technical documents ⇩
What is Electrocoagulation?
In the electrocoagulation process, electrodes (anode and cathode) are suspended in a reaction chamber containing wastewater and direct current is passed through them. During the process, the anode (iron) is oxidized to ferrous ions. At cathode, water molecules are lysed to protons (H+) and hydroxyl ions (OH-). The generated protons are reduced to hydrogen gas and hydroxyl ions which combine with metal ions to produce metal hydroxide flocs.
The ferrous ions combine with the hydroxyl ions to produce iron hydroxides, which are primarily responsible for contaminant removal. The iron hydroxides form solid flocs and are settled along with the contaminants, leaving clean supernatant as treated effluent. The supernatant is then discharged as treated effluent.