A decade of unabated growth in central Colorado has transformed the picturesque urban landscape into a sprawling metropolis. With the increase in population comes an inherent shortage of parking causing many new buildings to be constructed well into the shallow groundwater table, which requires long term foundation dewatering and treatment. The region's geology results in high concentrations of naturally occurring metals including selenium in the groundwater which must be treated to meet discharge regulations. Although an essential mineral in small doses, higher concentrations of selenium can bio-accumulate to cause serious heath and reproductive issues. In order to maintain the region's ecology and protect public health, the Colorado Department of Public Health & Environment (CDPHE) recently began strict enforcement of selenium discharge limits to 4.6-6.0 µg/L (ppb). Many building owners and construction sites have found that consistently meeting the new selenium discharge limit has been technologically complex as well as costly. Fortunately, a new solution has arrived.
A unique challenge
Among the facilities facing issues with selenium dewatering is the Fifty50 Syracuse Office Building three level subterranean parking garage. Located in the heart of the thriving Denver Technology Center (DTC), the Fifty50 Syracuse site is one of Colorado's top 10 LEED Certified buildings. Following this trend of being a leader of environmental design, they chose to pursue a similarly innovative approach to address its selenium challenge. Naturally occurring selenium concentrations in the site's dewatering stream typically range from 30-40 µg/L. Having already found multiple other selenium treatment technologies ineffective, the owners of the Fifty50 Syracuse site turned to the engineers at Burns & McDonnell Engineering Company, Inc. for help. After reviewing groundwater conditions at the site, Project Manager Chris Thebo of the Burns & McDonnell engineering team quickly determined that the concentrations of both selenium (Se) and naturally occurring sulfate (SO4) made technologies like ion-exchange and biological treatment costly, ineffective, and unsustainable. Fortunately, Mr. Thebo also recognized that the challenging site water chemistry wouldn't be an issue for the Cleanit®-LC process offered by Höganäs: "having worked with a wide range of groundwater conditions at similar sites, I immediately recognized the potential the Cleanit-LC process had to help me solve my client's issues in identifying and implementing a viable solution for the treatment of selenium in their groundwater discharge."
Solutions in action
Upon starting the project, the Höganäs team collected water samples from the site for bench-scale treatability testing in their Cary, NC, USA based laboratory. Preliminary testing confirmed that the overall design conditions would allow nearly complete removal of selenium from 30+ µg/L to well below the required 4.6 µg/L discharge limit with a relatively short contact time. As a result, the Cleanit-LC system could easily accommodate intermittent or irregular flows that can be typical from groundwater dewatering operations. The media-based Clean-it process is also extremely user-friendly so that rapid start-up / shut-down is a simple matter via either manual or automatic control. To provide the easiest long-term operation the Fifty50 Syracuse project included a high-level of system monitoring and nearly complete automation of chemical dosing, periodic bed expansion, effluent polishing, and other routine operations. As a result, the system is extremely easy to operate, yields very high (>95%) recovery, produces no brine, and generates minimal spent waste.
Beyond water chemistry, the Höganäs team faced a number of challenges with the logistics of working on an already complete and occupied Fifty50 Syracuse project site. The space where previous groundwater treatment systems had been installed was located in a remote corner of the facility's underground parking garage.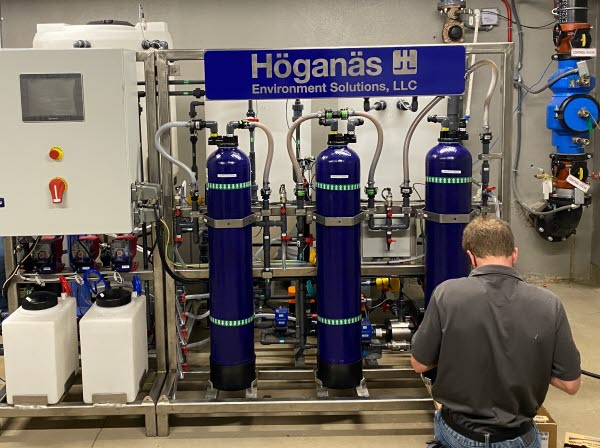 Not only did the new Cleanit-LC system have to fit within the existing room, it also had to accommodate existing door and deck heights to allow installation. To resolve the issues the Höganäs team worked closely with Burns & McDonnell, Corum Real Estate Group, as well as the Fifty50 Syracuse ownership team, to custom-design a complete system that could be transported and installed into the existing space. The resulting system was extremely compact and proved easy to install. Once in place, pilot commissioning, optimization, and testing were completed within two weeks.
Results
Results from the pilot testing at the Fifty50 Syracuse site exceeded every expectation. Treated effluent from the Cleanit-LC system showed non-detectable concentrations of selenium under nearly all operating conditions – well below the 4.6 discharge limit set by CDPHE. Water analyses also revealed the presence of uranium in the influent, which was completely removed by the Cleanit-LC process. Moreover, testing revealed that the versatile Cleanit-LC process could deliver these results across a wide range of operating conditions and can easily adapt to fluctuations in flow and influent water quality. "We were extremely pleased with the selenium removal performance of the Höganäs Cleanit-LC process for the project," said Chris Thebo, "and are excited to have found a viable solution for the treatment of selenium, which has been a problem at many sites in the Denver-Metro area." As a result of the test, a full-scale Cleanit-LC system is expected to be installed at the Fifty50 Syracuse site and will be operational in early 2021. The results from the Fifty50 Syracuse site demonstrate the Höganäs Cleanit-LC process delivers simple, sustainable, and effective solutions for selenium treatment.
Burns & McDonnell pilot date (Höganäs lab results)