Solutions
Cost-effective removal of the most challenging compounds from coal combustion residuals (CCR) treatment applications using 100% recyclable media.
Cleanit®-LC wastewater treatment process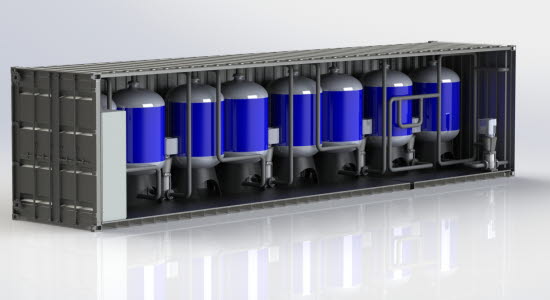 Höganäs' Cleanit®-LC treatment systems offer simplified process design, extremely easy operation, clean maintenance, robust monitoring, complete process automation, and remote monitoring. Based on Höganäs' Cleanit-LC / LC+ iron media, the Cleanit-LC process offers robust design, simple operation, and ultra-reliable removal of arsenic (As), copper (Cu), chromium (Cr), lead (Pb), selenium (Se), and other metals and metalloids from water process streams. Most importantly, the Cleanit-LC process completely and permanently removes contaminants without requiring regeneration or producing concentrated waste streams that require further disposal. Spent Cleanit-LC media is simply exchanged and is 100% recyclable to help minimize environmental liability and ensure the highest levels of corporate and environmental sustainability.
Cleanit-LC process advantages
Cleanit-LC/LC+ media for removal of As, Cr, Pb, Se, Sr, Th, U and other challenging dissolved metals / metalloids / radionuclides
Rapidly and irreversibly reacts with metals to remove them from process flow
Flexible / Scalable single or multi-pass design (<1 to >5,000 GPM)
Extremely simple process design, control and automation
Rapid kinetics with 100% contaminant removal
Up to 98% water recovery
Minimal residuals / no hazardous waste
Simple media exchange
Rapid startup / shutdown
Minimal SO4 interference
100% recoverable / recyclable media
Low total cost of ownership (NPV)
Contact us for Cleanit-LC process technical documents ⇩