Höganäs acquires H.C. Starck division and Alvier PM-Technology
During 2018, Höganäs closed two acquisitions – H.C. Starck Surface Technology and Ceramic Powders division and Alvier AG PM-Technology.
H.C. Starck Surface Technology and Ceramic Powders GmbH is a leading global manufacturer of metal powders for surface coating and additive manufacturing, as well as advanced ceramic powders. End-markets are for example industrial gas turbines, aviation, welding, thermal management and clean energy. The entity operates two production facilities in Germany and has 430 co-workers. Their broad product portfolio and strong trademarks will expand our existing product portfolio, and add significant product development capabilities and knowhow to Höganäs. The transaction was subject to the approval of relevant authorities and was closed at the end of February 2018.
Alvier AG PM-Technology is Europe's largest powder metallurgy (PM) tooling manufacturer and was founded 30 years ago in Buchs, Switzerland. It is today regarded as the world's leading independent provider of PM and SMC (Soft Magnetic Composite) tooling solutions. Alvier PM-Technology operates on behalf of customers across four continents and in more than 20 countries and has collaborated with Höganäs since 2005 in projects advancing what is possible within PM technology. The majority of the customer relationships are long-term. The acquisition was effectuated in January, 2018. All Alvier's customer relationships continue as today.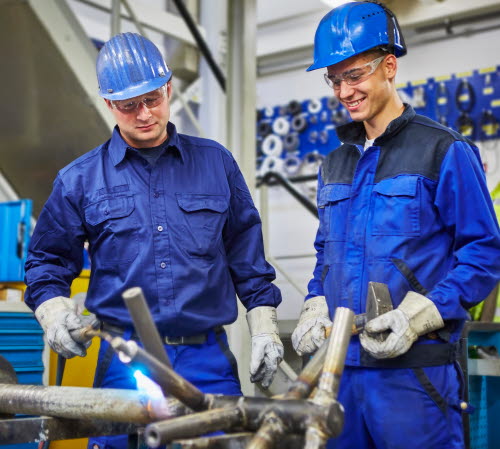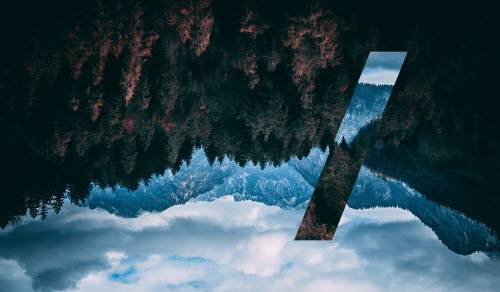 Alvier Mechatronics broadens Höganäs offering 
Alvier Mechatronics GmbH was established as a new entity within the Höganäs Group in autumn 2018. Focus will be to design and develop future proof mechatronic drive solutions for next generation automotive applications and to create more efficient, compact and light electric drive systems. During late Q1 2019, a new Head Office will open in Bad Dürkheim, Germany. The mission is to have an impact in the electrification of the automotive industry by creating new standards for electric drive units, powertrain and components.
Inauguration of the world's first renewable energy plant for the steel industry in Höganäs 
On June 19 2018, Cortus Energy and Höganäs inaugurated the world's first plant for demonstrating, on an industrial scale, fossil-free steel production based on gasification of biomass by using a new technology, the Woodroll® process. Cortus Energy has delivered, installed and will run the plant on Höganäs' site. The investment is based on a combination of grants from Klimatklivet and the Swedish Energy Agency and capital from Cortus and Höganäs. Industrial partners are ABB, Calderys, SSAB and Södra. When the pilot plant is in full operation, the potential reduction of our carbon dioxide emissions is 10,000 tonnes yearly.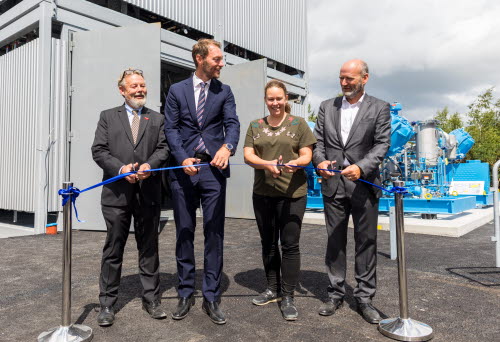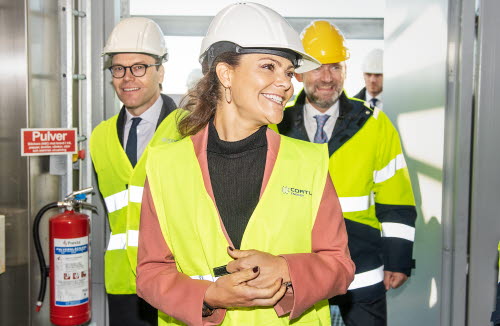 The Crown Princess Couple's visit to Höganäs
On Friday 16 November, The Swedish Crown Princess Couple visited Höganäs to learn about our efforts to make our steel production more sustainable. The programme for The Crown Princess Couple included both presentations about our sustainability strategy, an exhibition at which our co-workers described and demonstrated different metal powder applications, a tour of the facility for producing green energy gas and a visit to our subsidiary for additive manufacturing, Digital Metal®.
Höganäs celebrates 25th anniversary in China and upgrades its mixing station 
In November 2018, Höganäs not only celebrated its 25th anniversary in China but also inaugurated an upgraded and state-of-the-art mixing station, which will bring new opportunities for the metal powder industry in China. A large number of honorary guests, including representatives of the local government, industry associations and customers, attended the ceremony that took place in Shanghai.
In 1993, Höganäs began a joint venture with a Chinese partner and later on took full control of the company, becoming one of the first foreign enterprises to establish itself in Qing-Pu. It was a commitment from Höganäs that showed it has long-term ambitions to stay in China. Over the years, we have made numerous investments in China; the new mixing station in Shanghai is now the most modern plant in the Höganäs Group. The plant has a high level of automation and a substantially upgraded material handling process, from when the powder arrives from Sweden to when it is delivered as finished product to the customer. The new equipment that has been installed uses the latest technologies and will significantly increase capacity and improve safety.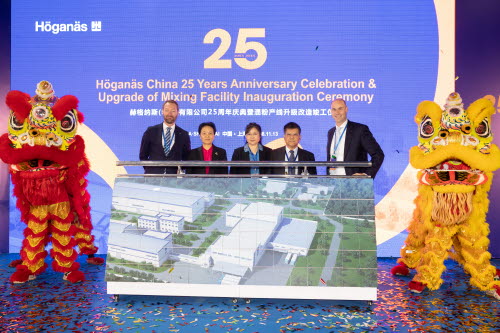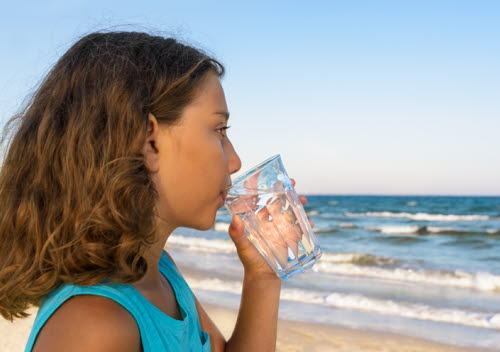 Höganäs' Cleanit technology receives conditional approval in California
Höganäs received conditional approval from the California Environmental Protection Agency (EPA) for its Cleanit® LC technology, a process solution created to purify drinking water, removing contaminants such as hexavalent chromium, arsenic, lead, selenium, phosphates and radioactive isotopes. Following the independent evaluation of a two-phase conditional acceptance challenge study, California's EPA determined that Cleanit LC is a cost-effective, safe technology for hexavalent chromium treatment and that it can be used by public water systems in California.
For the study, we demonstrated the effectiveness of Cleanit LC at the difficult to treat Well 14 in Los Banos, California from May 2016 through February 2017. During testing, the cleaned water showed invariably non-detect levels of hexavalent chromium and arsenic.
Renewed environmental permit secures continued growth
Höganäs received a renewed environmental permit covering the operations at Höganäs Sweden AB, the company's largest production site. The environmental permit provides long-term conditions, allowing a continued capacity growth in the years to come. New is our possibility to operate pilot scale production, a foundation for fast-tracking time to market. A new set of environmental conditions limit the impact of production and secure protection of the local community and the environment. The limiting conditions address emissions, noise, effects of transports through the local community and more. We monitor the operations through an environmental monitoring programme and file an annual environmental report to the competent authority.