Höganäs boosts Digital Metal® capacity
To meet the growing demand for 3D printed components and additional material alternatives, Höganäs has invested in a new sintering furnace. The investment enables an increased output of metal components using Höganäs' proprietary technology Digital Metal®.
- The new furnace has significantly increased our production capacity and we are also able to sinter a wider range of metal powders, comments Ralf Carlström, General Manager for Additive Manufacturing at Höganäs.
The high temperature furnace offers variable sintering atmosphere settings and very precise adjustment of temperature profiles, crucial to the sintering of high quality metal components.
- It was a complex installation with many parameters to take into account, says technicians Tomas Olsson and Christer Palmquist.
Digital Metal®
is a 3D metal printing technology enabling production of complex objects that would be costly, if not impossible, to produce using traditional methods.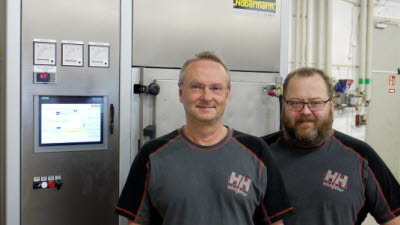 Technicians Tomas Olsson and Christer Palmquist at the new furnace.