New experiences with job exchange at Höganäs
Thomas Nyman and Lars Jensen have both worked at Höganäs in Sweden for 25 years, but in different sections. At the beginning of this year, they swapped jobs in order to create stronger relations and get new experiences.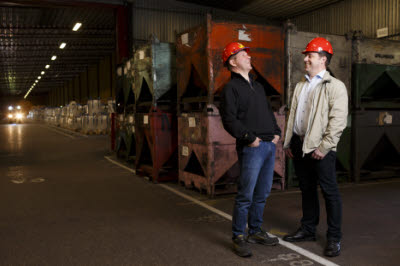 "I think that this type of exchange makes people feel happier at work," says Lars Jensen. Lars had been working as a manager in the crushing and rolling section of the powder plant since 2003, when the opportunity to swap jobs appeared.
Thomas Nyman
Age:

44


Lives:

Jonstorp


Family:

wife and twins
Thomas Nyman – manager at the Distaloy plant, special mixes/packing – at first felt uneasy facing a completely new area of work.
"But soon, I realised that it was good for me to step outside my comfort zone and confront new situations every now and then," he says.
The purpose of the workplace change – which began on 1 January and will last for one year – is to enable the exchange of expertise between the different sections.
Both Lars and Thomas think that the exchange has worked well so far and that the employees seem happier. Their goal is to bring as much experience as possible back to their regular jobs.
"I find it very interesting to get to know a completely different side of the company. This opportunity has also given me a larger network and broadened my horizons at the company, " says Lars.
Lars Jensen
Age: 44
Lives: Höganäs
Family: wife and three children (two are twins!)