Our new tech centre has now been inaugurated – welcome to ArcX Europe!
Höganäs AB can now offer an additional tech centre for surface coating, with the latest one inaugurated on November 3 in Höganäs, Sweden. This new tech centre has been given the same name as those in Johnstown and Shanghai: ArcX.
Fifty special guests, including customers from all over Europe, were given a guided tour of the centre and a thorough briefing on what the Höganäs tech centre will be able to offer them.
Ingrid Hauer Miller is responsible for ArcX Europe. "Now we will be able to give our customers even better support. We can help them to optimise their processes, solve problems and find new solutions. We will also organise training and customised workshops for customers who want that," she said.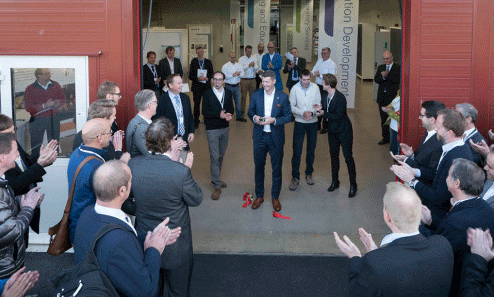 Flexibility is a word that comes up whenever the centre is mentioned. Here, customers can help test their prototypes and receive help to develop their applications – all according to their terms.
- We will be able to run small experimental productions – everything to help the client get the best possible results. We will offer support right from the initial idea to the finished product, said Miller.
During the opening ceremony, Höganäs CEO Melker Jernberg stressed that he hopes customers will really make the most of the centre and all its competence going forward.
- We work hard so that you will be successful. Your success also leads to our success," he said. Jernberg also raised the environmental benefits of surface coating. "Surface coating is, for me, a clear way of doing good business. It has to do with sustainability, reuse, and life-length of products. This is a very important issue for the future.
FACTS: ArcX Europe

The plant in Sweden will be able to offer customers the following:

• Superior technical support to customers
• joint development projects
• optimised customer production
• customised solutions
• consulting
• training and education
• prototyping/small production runs

At customers' disposal are: a 7 kW fibre-coupled diode laser (Laserline), a fully automated Commersald PTA system, a semi-automatic Hettiger PTA system, flame spray guns, powder welding torches, a wear lab and a fully equipped metallographic. Customers who require training, education and workshops will also be offered these.
The name ArcX is an abbreviation of applied rapid coating centre of excellence. Initially, this name was used only for the surface coating lab in Shanghai. Now, the name is shared with the other surface coating technology centres around the world.*

* The tech centre in Brazil is a joint venture with another company, and does not bear the name ArcX.