Höganäs awarded prize for best paper and poster
At the 11th International Conference of Brazing in Aachen, Germany, Höganäs was awarded two prizes. One for best paper together with SWEP, another for best poster in cooperation with Schmetz.
During the 11th International Conference on Brazing in Aachen, 7-9th of June, Höganäs displayed the brazing product portfolio by sample applications and presented a paper about the newest alloy development, called New nickel based brazing alloy suitable for very corrosive environments.
The paper was applied in cooperation with SWEP, supplier of brazed plate heat exchangers for HVAC and industrial applications, and presented by Ulrika Persson from the brazing department at Höganäs.
- We decided early on to cooperate and present our findings to each other openly, says Niclas Bornegård from SWEP. We see it as one plus one equals three – we can learn from each other and that benefits both of our companies.
The paper was awarded a prize for best paper and it differed from many of the other papers that were more academic. The paper was about the newest alloy development and described a real case, presenting the development process of new materials and highlighting the importance of cooperating with customers and to be open to innovative ideas.
Also presented at the conference was the poster named Economic processing of high volume binder burn out in vacuum furnace, written by Martin Stroiczek from Höganäs GmbH and Ronald Stein from Schmetz, a company that develops and manufacture vacuum furnaces.
Out of 24 posters, this poster was awarded best poster, explaining how mass production of plated heat exchangers require effective application methods together with tight control of alloy volume. A preferred application method is to apply paste by roller coating as it, compared to spraying or foil application, reduces the total amount of applied brazing filler metal.
- The other part of the poster describes the result of our guidance in developing a powerful plug and play binder burn out pump station as add on to existing furnace installations for Schmetz. This ensures that our customers can use Höganäs innovative cost cutting paste application working within all of our brazing alloys, says Martin Stroiczek and continues:
- I'm very happy and proud that we won the award for best poster and that Ulrika and Niclas was awarded a prize for best paper. New for this conference was also that we sponsored the event with beer from Höganäs' brewery, which became a huge success, says Martin while smiling.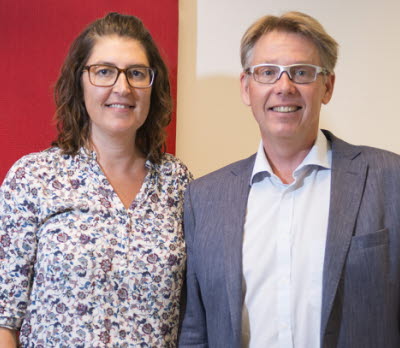 Höganäs' Ulrika Persson and Niclas Bornegård from SWEP