PM gear solutions for manual transmission applications
As PM technology wins ground in manufacturing of automotive components, Höganäs is proud to present its new PM gear solutions engineered for high load carrying transmission applications.
These have been developed within the Powder Metal Gearbox Initiative (PMGI), a major collaborative industry development project initiated and coordinated by Höganäs.
Höganäs is the global leader in driving new material, application and market developments for PM solutions. Now, Höganäs has successfully developed and proven the suitability of PM technology for high load carrying gear applications in modern automotive transmissions. At the World PM2016 in Hamburg, we show the world's first 6-speed manual transmission design optimised and prototyped with PM gear solutions.
"Thanks to its near net shape advantages, PM gear technology eliminates the majority of machining processes for gear manufacturing", says Eckart Schneider, Director Commercial Development PM at Höganäs. "This makes it possible to substantially shorten traditional gear manufacturing process chains and reduce the investment costs for OEMs when setting up new gear machining and transmission manufacturing operations."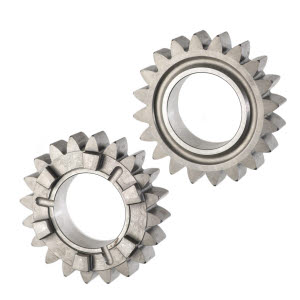 Höganäs PM gear solutions can bring several technical advantages, such as reduced gear weight and inertia and the possibility to integrate additional design features, optimise gear root shapes and reduce vibrations and gear noise. Enabling an overall lower energy input, higher material utilisation, reduced use of machining fluids and minimised waste, PM gear technology can also be considered a more sustainable manufacturing solution.
"The 6-speed manual PM gear transmission we are showcasing at World PM2016 in Hamburg has been tested for durability, abuse and vibrations and the car it is installed in has now been running on the roads for more than 70,000 km without any issues", says Eckart Schneider. "We see it as living proof of the amazing potential of PM technology in future transmission gear applications."