A boost for Höganäs, the community and the environment as new US site inaugurated
An idea in the making since December 2016 came to fruition on Wednesday, October 4, when Höganäs Business Area Environmental welcomed executives, board members and local dignitaries to celebrate the ribbon cutting and inauguration of its new 2,800 square metre headquarters in Cary, North Carolina.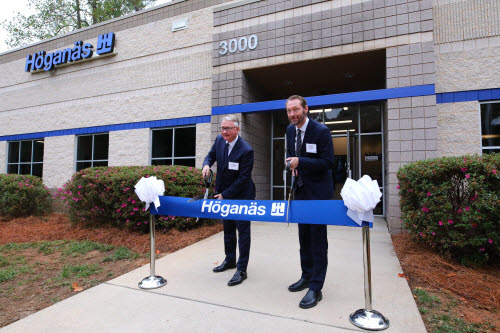 Lars Wedenborn, member of the Höganäs Board of Directors, and Fredrik Emilson, Höganäs CEO did the honours and cut the ribbon.
Early morning fog quickly gave way to trademark Carolina Blue skies as about 70 attendees listened to speeches and toured the facility which is equally divided into office, laboratory, and warehouse space, before enjoying a catered lunch in multiple conference rooms.
Fredrik Emilson, President and CEO of Höganäs, cited the event as a landmark achievement in the company's venture into water and soil remediation. "As our company vision states 'inspiring industry to make more with less', we seek business opportunities that lie in the interest not only to grow and develop business, but also to help and improve the well-being of society as a whole," he said.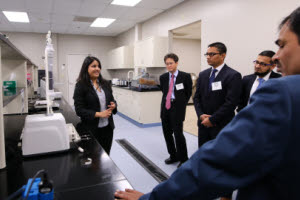 Tour of the brand new laboratory.
Previously located in Johnstown, Pennsylvania, Business Area Environmental began pondering relocation last year as it sought room to grow its increasingly successful water treatment business, which uses powdered iron and patented processes to remove contaminants from drinking water (Cleanit® LC) and wastewater (Cleanit® EC).
Emily Barrett, sustainability manager for the Town of Cary, said "We're thrilled to have yet another corporate headquarters moving to the area. We consider it high praise that they chose us." She pointed to the healthy economy, access to transportation, and excellent education system as continuing draws for R&D firms considering the area. "We are sincerely grateful."
Avinash Gore, President of Business Area Environmental, said Cary was one of multiple locations throughout the US that were considered. The availability of international flights, a mild climate, affordability, and close proximity to universities and research facilities solidified the choice. "We came here and we said 'this is where we want to be'," said Gore. "We love Cary already – it's a beautiful place." Once a space was chosen, renovations began in May and continued through September.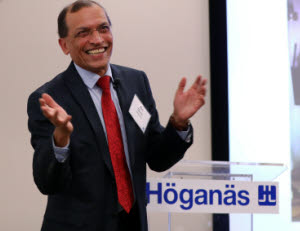 Avinash Gore

Ultimately, twelve employees chose to relocate from the Johnstown site, seven have been recently hired and there are immediate plans to add six more to support sales and technology. Within three years, Gore expects the company to employ 60 people.
During his morning speech, Höganäs board member Lars Wederborn echoed Emilson's comments that the expansion fits into the company's drive for sustainability. "It's doing something good for the world," he said, adding that "Avi and his team have created something relatively unique for which there is good business potential."
More views on the new business area and office
Dr. Paul Gangopadhyay, Vice President Technology at Netshape, a partner in Höganäs' water treatment technology:
"It's a pleasure and honor for me to be here at this occasion and to get the opportunity to share our excitement for this incredible and wonderful technology.
"It is not only a huge potential market given the scarcity of water around the world, but also a major social cause of which we at Netshape are proud to be a part of."
"We're so glad that Höganäs has identified this as a significant cause. I'm so confident that with this investment with us to date, and Avinash Gore's leadership, this will be a very successful venture."
Madan Tandukar, Vice President Technology, Environmental: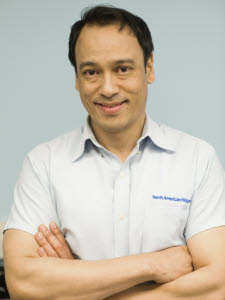 Madan Tandukar
"This is the day we've been waiting for and we're finally here! It's very good – nice weather and nice people! We wanted to have the right size facility, stand-alone. And one third we want to dedicate for offices, one third for labs and one third for warehouse, and this was the perfect facility we've found, so we're really happy. With renovations complete, Tandukar is looking forward to diving in to daily operations. "After today and all the formalities are done, we'll get back to business and customers, trying to sell our product and our technologies."