Turning metal powder into art
The artist Emille de Blanche has always been interested in new techniques and materials. Recently, she completed two major sculptures using high alloy powder from Höganäs.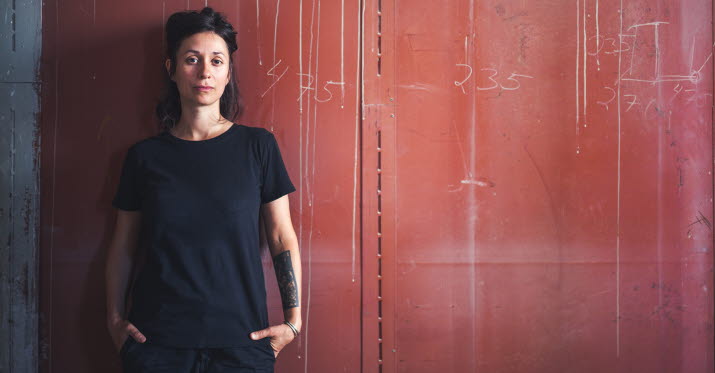 "Throughout my career as an artist, I've been working with different materials. I like to experiment to really get to the heart of each material. The first time I used metal powder in my work, it was on a very small scale. But I wanted to do more, so I contacted Höganäs and here we are," says Emille de Blanche, who lives and works in the Swedish capital of Stockholm.
So, the plant in Belgium shipped one hundred kilograms of high alloy powder to the Swedish artist for her new project. Through her previous work, Emille de Blanche has gained a lot of experience in working with steel to create large sculptures, but metal powder has a completely different structure. She describes it as much rawer.
"When I first received the metal powder I started to experiment. I mixed it with other materials, such as polystyrene and binders to see how they reacted together. Every material has its own qualities and the first experimental phase is very important. That's when I investigate the limits and possibilities of each material," says De Blanche.
The high alloy powder arrived in Stockholm in December 2017. After an initial period of investigating and 'getting to know' the powder, Emille de Blanche created two major pieces of art that were exhibited in Stockholm earlier this year. The sculptures will appear at Bromölla Konsthall (Bromölla Art Gallery) in the south of Sweden in early 2019, and later in Gothenburg.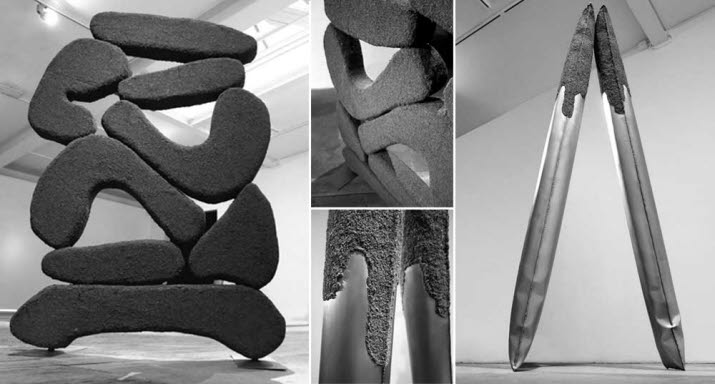 "The sculpture I call 'Split' is a combination of steel and metal powder. It's two metres high and the surface is a mix between the rawness of the powder and the slick steel. I'd like to keep on experimenting with metal powder," says Emille de Blanche.
Ulrika Rask-Lindholm, head of Communications at Höganäs, says the company is delighted and excited to see high alloy powder being used in a totally different way.
"Höganäs didn't hesitate to donate metal powder to Emille's project. We want to be part of society and contribute in whatever way we can. Through this project, our metal powder is transformed into art pieces and will reach a lot of people who are unfamiliar with the material," Rask-Lindholm says.
Text: Görrel Espelund
Photo: Robin de Blanche (portrait of Emille)