Christian Lönne new CEO of Höganäs subsidiary Digital Metal
Christian Lönne assumes the position as CEO of Digital Metal®, Höganäs AB's subsidiary that manufactures 3D printers for metal powders.
"It's time for Digital Metal to take the next step in development," says Fredrik Emilson, CEO of Höganäs. "Christian Lönne's experience from both big companies and start-ups is just right."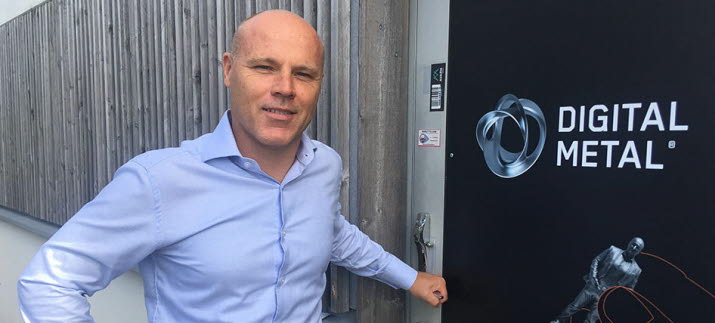 Digital Metal was founded in 2010 and today manufactures 3D printers for metal powders and sells or leases them on the international market. The technology enables production of complex objects with high precision and surface finish, which is not possible with competing techniques. On its premises in Höganäs, the company produces components in small to large series for global customers.
"Digital Metal is ready to take the next step in their development. In the future, we will invite other partners to accelerate technological development and increase our global presence. Christian, with his background and experience, is a perfect pilot in developing the business and building a stable commercial platform for Digital Metal," says Fredrik Emilson.
Most recently, Christian has worked for the accelerator BEYOND in Lund where he is Head Coach for large companies working with Lean start-up methods and open innovation. In addition, he has many years of international experience from the corporate world, such as Sony Ericsson. He has held leading roles in the growth phase of companies in both digital technology and consumer products in recent years.
"I look forward to my assignment at Digital Metal," says Christian. "It is a very exciting company with a high level of innovation and cutting-edge technology that has a fantastic potential to change industries. The combination of a dynamic start-up company and a stable owner like Höganäs I see as a success factor."
Christian will take up his position on October 8. Former CEO Ralf Carlström then assumes a new managerial position, as leader of Höganäs' investment in metal injection moulding, MIM.
More about Digital Metal®

Digital Metal, founded in 2010, is part of the Höganäs Group. As a world's first, dhe company manufactures industrial 3D printers based on binder-jetting technology, for production of small detailed components in large volumes. Digital Metal's proprietary 3D printer enables the production of complex objects with high precision and surface finish, which is not possible with competing technologies. Customers include companies such as Honeywell, Koenigsegg, Mectron, Montfort Watches, CETIM (the French Technical Center for Mechanical Industries) and Volvo.

Find out more at digitalmetal.tech