Höganäs AB uses 83 per cent of all side streams – reducing society's use of virgin raw materials by 155,400 tonnes
Metal powder manufacturer Höganäs AB's production plants all over the world create vast quantities of byproducts (side streams). The company is working to ensure that as much of this material is possible is used as new raw material in its own production processes or by other industries. No less than 83 per cent of Höganäs' side streams were used in 2018.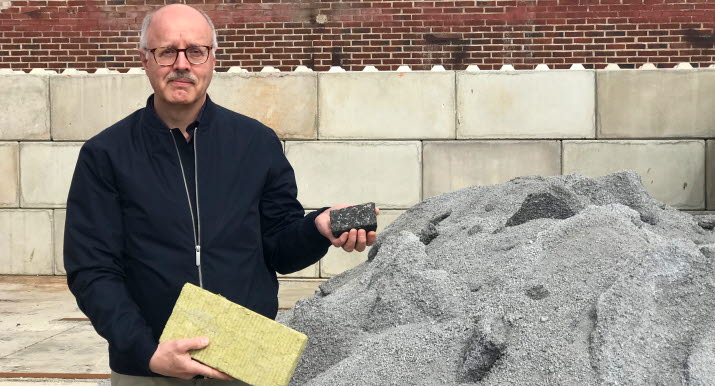 A large proportion of these side streams is returned to Höganäs' production processes, while some is used as raw material for other manufacturing companies – as a raw material for asphalt, insulation or as load-bearing layers in groundworks. In 2018, 83 per cent – or 155,400 tonnes – of all side streams from Höganäs were reused in the company's own production or by other industries.
"Side streams from Höganäs can replace materials that are otherwise blasted out of rock for use in roadbuilding, for example. Höganäs it is part of the circular economy in that we provide industries with raw materials from our side streams and largely use scrap as a raw material in our own production processes. The more side streams we can use in society, the less virgin material is needed," says Björn Haase, who is responsible for Höganäs' work with side streams.
Cooperation the key to success
Finding potential applications for Höganäs side streams has not always been quite that simple. Björn Haase is a pioneer in the field, and his insistent efforts and cooperation with other companies are one of the main reasons why Höganäs manages to use so much of its side streams.

"We are successful in pursuing technical development and projects that the entire steel industry can benefit from thanks to cooperation with companies in the steel industry and other industries. We also link together industries that do not normally come into contact with one another. Slag asphalt for the asphalt industry and water treatment with slag for the water treatment industry are just a couple of examples of successful projects of this kind."
The challenge of finding new options
One challenge involves assessing which side stream materials are suitable for which customers. Extensive analysis work is required in this regard.
"We have a number of products from our side streams, but we have to come up with new options the whole time. This is why we carry out extensive sampling procedures in order to analyse and control the qualities of our material and work out the industries for which the material might be useful. We have to be innovative and constantly think along new lines," says Björn.
"It was really difficult to gain support for the use of side streams ten years ago, but nowadays circular economy and industrial symbiosis are a frequent topic of conversation. There is now a great deal of interest among both customers and authorities, and more and more people are realising that we have to look after the Earth's resources."
Find out more about Höganäs' work with side streams:
Fakts

Höganäs AB production plants all over the world produce vast side streams, also known as byproducts. The company is working to minimise the amount of waste it generates by turning side streams into products. In 2018, Höganäs used 83 per cent of its side streams in its own production processes or sold the material to other industries to be used as raw material. The objective is to increase usage to 85 per cent by 2020 and 95 per cent by 2026.