Solar panel park at Höganäs in Belgium inaugurated
After the installation of photovoltaic panels on its roof in 2019, Höganäs in Belgium has implemented a new large-scale solar project that involves the installation of almost 30,000 square metres solar panels.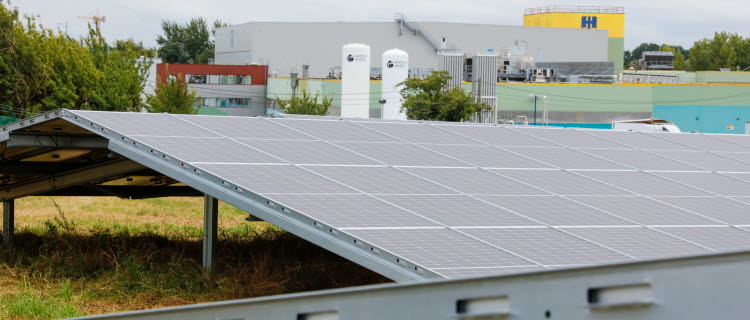 "With this project, we strengthen our commitment to energy efficiency, renewable energies and the reduction of our environmental footprint. This project represents another step towards sustainability and a cleaner future while reducing expenses and generating positive savings," explains Vincent Rasneur, General Manager at Höganäs in Ath. "This green energy helps us contribute to Höganäs' goal of reducing its carbon footprint by 30% by 2026 and being climate neutral by 2045."
It is within this framework that the construction of the 6 MWp solar field takes place. While Höganäs is aiming for carbon neutrality in 2045, its climate roadmap has three strategic areas: reducing emissions by increasing energy efficiency, using more recycled materials to reduce upstream emissions and increasing the use of renewable energies.
Facts and figures

29,627 m² of photovoltaic panels
13,188 photovoltaic panels
An east-west orientation has been chosen to benefit from maximum sunshine.
The estimated production is 5,494 MWh, of which 4,780 MWh will be self-consumed, covering 20 percent of the site's needs.
Annual savings of 1,000 tonnes of carbon dioxide.

On the way to biodiversity
Höganäs in Belgium is also planning a plant screen with 900 indigenous honey plants. These plants as well as a 1,000 square metre bed of wildflowers, will provide food for insects and birds, thus creating a habitat for them.
In addition, a flock of about twenty sheep will be used for the maintenance of lawns around the panels, contributing to the reduction of fossil fuels and to the improvement of the site.