Höganäs Expands in the US – Opens Cutting-edge Environmental Technology Lab
Today we announce the opening of a new office and water treatment laboratory in Cary, North Carolina. The facility, that will employ around 60 people, is key in our ambitions to expand within water purification and soil remediation.
"Our purification technology, where powder made from recycled metal plays the lead role, is needed in society," says Höganäs CEO Fredrik Emilson. Water scarcity is one of the greatest threats facing the planet and through this expansion we can and will help more people get access to clean drinking water.
The new office and development lab is located in Cary, North Carolina. Cary is located in what is called Research Triangle Park, a cluster where academia, research and entrepreneurship meet to develop new technologies and solutions in the environmental field.
Höganäs has developed and patented a number of products and processes that apply proprietary metal powder technology to successful and sustainable removal of contaminants from water. Pilot projects for Cleanit® LC and Cleanit® EC in California and Brazil, respectively, have successfully removed Chromium-6, arsenic, metals and other toxins and contaminants from drinking water and wastewater.
Most recently, Höganäs announced that SKF Brazil has invested in a Cleanit® EC system to treat their industrial wastewater. Low operating costs, a high degree of innovation and decreased use of groundwater were some of the deciding factors. Höganäs will roll out additional lighthouse projects in the U.S., India, Brazil, and China over the next few years.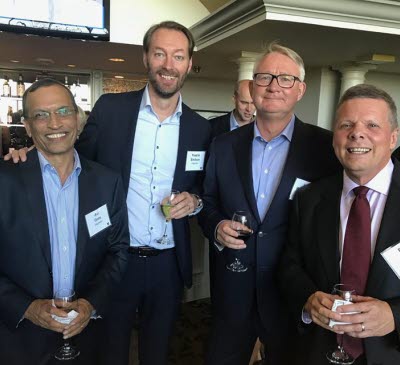 From the left:
Avinash Gore, President Business Area Environmental, Fredrik Emilson, CEO Höganäs, Lars Wedenborn, Höganäs board member, and Ron Riley, CEO of Envirogen Technologies.
​​