For us at Höganäs, Maria Sophia was just the beginning
Yes, Thomas Stawford certainly played his part in founding what would become Höganäs AB, but did you know that it was the entrepreneur and businesswoman Maria Sophia de la Gardie who laid the foundations for mining operations at Höganäs back in the 17th century?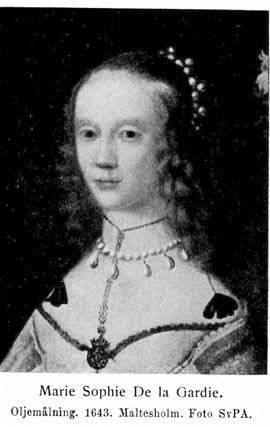 Seventeenth-century Sweden. The age of war and the Swedish Empire. We pass one million inhabitants, but are badly hit by the plague, failed harvests and famine. This is the century of Shakespeare, Cervantes and Galileo, but also of witch trials. One royal warship – Wasa – sinks, another one explodes and the royal palace in Stockholm is burnt to the ground. In Skåne, the pro-Danish guerilla movement fights to keep the region Danish, but fails.
Maria Sophia was little more than a child when she was married off at the age of sixteen. After bearing two children she lost her husband, and as a 22-year-old widow she became the administrator of her husband's vast fortune and estates. As she never remarried, she avoided the guardianship that marriage otherwise meant for women at that time. So, she only had the scope and the conditions to develop as an entrepreneur after her husband's death. A stroke of luck for Höganäs, perhaps?
Proprietor – and witch?
Maria Sophia ran a large number of businesses in the areas of agriculture and manufacturing, and following the purchase of Krapperup Castle she also became a mine owner. At this time mining was still a novelty in Sweden, and Maria Sophia was one of the first to realise that coal would not be profitable unless mining was rationalised and transport activities minimised. She therefore made sure that she obtained the monopoly to supply coal to the lighthouses on the south-west coast, to which the coal could be shipped quickly and easily by boat.
Maria Sophia was a strong, combative woman; this can be seen from the preserved letters that contain plenty of temperamental expressions and imaginative swear words. Like so many other strong women, she was accused of being a witch, but she avoided torture and execution. Today we call her Sweden's first female entrepreneur, but it is possible that history will be revised even more. After all, we are now aware that historical descriptions should be viewed as an expression of the norms of the time, not as absolute truths.
Room for more women in Maria Sophia's footsteps
Sadly, the Scanian War between Sweden and Denmark rendered mining operations impossible – the workers were called in for military service and Sophia Maria's property was vandalised. It would not be until the late 18th century that Höganäsbolaget was formed and resumed coal mining on a large scale.
Operations in Höganäs have reflected their times, from the 17th century until the present day. In the past coal was mined here, then clay, and now we work with metal powders. And now we also realise that we achieve the best success if we make room for differences, which is why we aim to increase diversity at Höganäs.
Despite the fact that relatively few women work in the business – 15 per cent of employees are women – there are many role models for students and new employees, and they are just as strong as Maria Sophia. Group management now has two female members, and the same is true of the Board of Directors.
Women are also highlighted in other ways: two of the three recipients of the prestigious Ulf Engström Award are women, and if you look at the key words in the justifications – innovation, humbleness, inclusion, knowledge and customer success – you understand that they have been recognised not because they are women, but because they represent everything that Höganäs stands for. Yesterday, today and tomorrow.