New battery-electric truck from Scania reduces Höganäs' carbon dioxide emissions
As Höganäs works to improve the efficiency of its transport operations between the Höganäs area and the Port of Helsingborg, it is now implementing a battery-electric truck on this route, which will reduce both climate impact and noise levels. The truck is a project vehicle that is not yet in series production and is therefore not available on the market.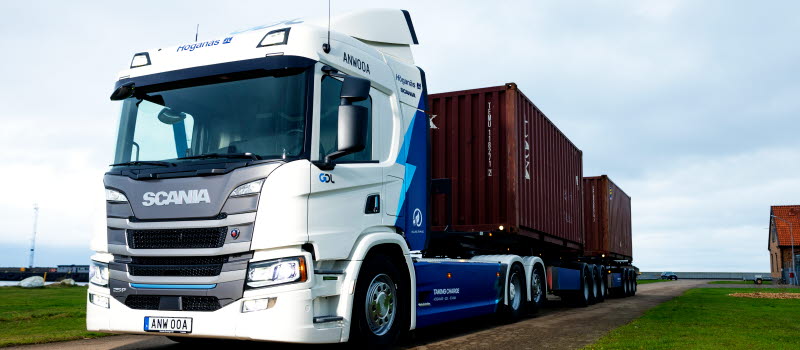 In spring 2016, Höganäs started working with high-capacity transport (HCT), i.e., vehicles that are allowed a total weight of 74 tonnes instead of 64 tonnes. This enabled Höganäs to halve the transport between its factory in Höganäs and the Port of Helsingborg, by loading two containers instead of one. Now, the company will start using a battery-electric truck from Scania on this route and as a result will significantly reduce its climate impact.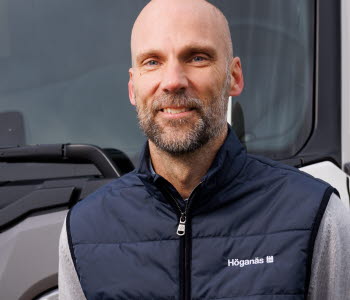 "Now we are taking the next step and are expanding our fleet with a third and new HCT vehicle that runs on electricity. Being able to contribute to the climate transition, by driving very heavy transport with electric power at such an early stage, feels important and exciting," says Johan Walther, Supply Chain Manager at Höganäs. "We estimate that we can reduce carbon dioxide emissions by up to 130 tonnes/year, which is a total reduction of 98% over the truck's lifespan compared with a diesel truck."
Being able to contribute to the climate transition through more sustainable solutions is in line with Höganäs' climate ambitions. The company's goal is to achieve net zero throughout the value chain by 2037 and in its own production by 2030.
"With Höganäs now installing a completely new battery-electric truck, they reduce the climate impact of their transport operations. The truck is also quieter, which is good for both the surrounding area and the driver. For heavy transport to make a full transition to fossil fuel-free, it is important that there are transport buyers who dare to take the lead and adapt," says Evalena Falck, Scania Sales Director, Strategic Account Management.
The transport service is purchased by GDL, who are involved in Höganäs' work to reduce the climate impact of its transport services.
"This pilot project is fully in line with our ambition to be part of the positive development in order to develop more fossil fuel-free transport solutions in Sweden," says Mikael Andersson, CEO of GDL Sjöcontainer AB.
For more information, please contact: Emma Lefdal, Vice President Marketing & Corporate Communications
Mobile +46 73 51 50 80, e-mail: emma.lefdal@hoganas.com
Fact

This is part of the REEL project, a national initiative in which leading Swedish players have joined forces to accelerate the transition to electrified heavy transport on our roads. The initiative, which is led by CLOSER, is partly financed by the Vehicle Strategy Research and Innovation (FFI) programme through Vinnova and the Swedish Energy Agency.