Höganäs
Sweden
Business intelligence specialist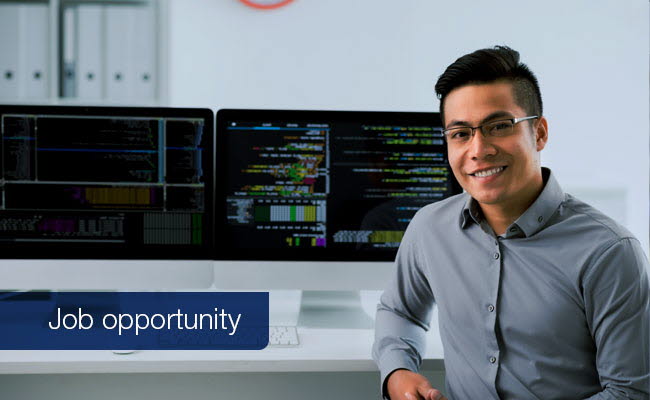 Om tjänsten
I denna tjänst får du möjlighet att arbeta med både ny- och vidareutveckling samt underhåll av företagets globala BI miljö. I arbetsuppgifterna ingår arbete med kravspecifikationer, systemutveckling och test. Företaget har en avancerad och modern BI-miljö med spännande utmaningar i det dagliga arbetet. Vårt BI-team ansvarar för utvecklingsuppdrag från Höganäs globala verksamhet, vilket ger stora möjligheter till variation för dig. I tjänsten ingår bland annat att arbeta med QlikView, Microsoft, SQL-serverbaserade data warehouse.
Din profil
Vi söker dig som vill vara med och vidareutveckla våra business intelligence lösningar.
Du har erfarenhet av att arbeta med SQL-server med design, modellering, och implementation av databaser och ETL-flöden
Du har erfarenhet att arbeta med Qliks produkter (QlikView, Qlik sense, Nprinting) och är bekant med data warehouse
Du har mycket goda kunskaper i svenska och engelska, i både tal och skrift
Du har en akademisk utbildning med inriktning mot systemutveckling/programmering eller motsvarande kompetens
Som en av fyra BI-specialister/-utvecklare deltar du i hela utvecklingsprocessen, från beställning till implementation i verksamheten. Det är viktigt att du har en god samarbetsförmåga samtidigt som du kan utföra dina uppgifter enskilt och under eget ansvar.
Att jobba på Höganäs
Vårt mål är att erbjuda en bra och meningsfull arbetsplats, där du kan utvecklas och nå dina ambitioner. Vi har en tydlig ledningsfilosofi, där vi strävar efter öppenhet som ett sätt för både medarbetare och företaget att utvecklas. Vi ser varje medarbetare, oavsett position, som en ledare när vi tar oss an de utmaningar som världen – och vi – står inför. I nära samarbete med våra intressenter siktar vi mot vår vision om ett hållbart samhälle, att inspirera industrin att göra mer med mindre.
Mer om Höganäs
Höganäs är världsledande på marknaden för järn- och metallpulver, med en årlig produktionskapacitet på 500 000 ton. Tillsammans med våra kunder utvecklar vi morgondagens lösningar för fordonsindustrin, ytbeläggnings- och sammanfogningstekniker, additiv tillverkning och vattenrening; områden som alla bidrar till ett mer hållbart samhälle. Höganäs grundades 1797 och idag sysselsätter vi 2 400 engagerade medarbetare i 16 länder i Europa, Amerika och Asien. Vår omsättning under 2020 var 0,8 miljarder euro. Våra ägare är Lindéngruppen och FAM.
Intresserad?
Rekryteringsprocessen hanteras av Wise IT – vid frågor kontakta rekryteringskonsult Peter Hessing på mejl peter.hessing@wiseit.se eller telefon 073-521 6578.
Contact
Within Höganäs we recruit with respect for all applicants. We work effectively, transparentely and towards diversity.
Please know that we only consider and accept a general application via our homepage. Our way to safeguard that everyone who has put in an application is considered based on his or her input.