Höganäs celebrates 25th anniversary in China by upgrading its mixing station
As part of its 25th anniversary celebrations in China, Höganäs inaugurated an upgraded state-of-the-art mixing station at the Qing-Pu site in Shanghai which is now the most modern plant in the Höganäs Group. "This shows our commitment to the China market and our plan and expectation to remain the market leader while continuing to offer our market leading powder mixes. We will continue to offer the highest level of services for our customers by continuing to develop the market," says Mark Braithwaite, head of Höganäs in the Asia-Pacific region.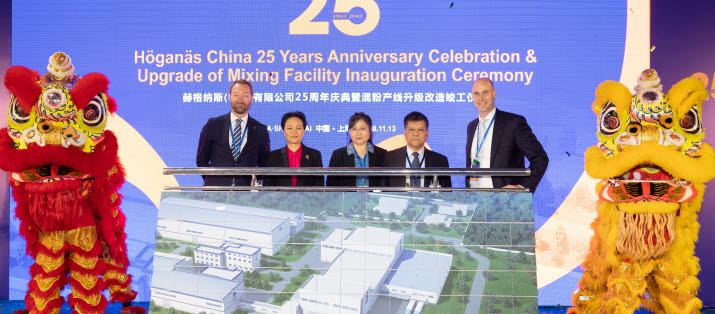 In 1993, Höganäs went into a joint venture with a Chinese partner and later on took full control of the company. It was a commitment from Höganäs to show it had long-term ambitions to stay in China. Over the years, Höganäs has made numerous investments in China and on 13 November 2018, Höganäs could celebrate not only its 25th anniversary in China but also the inauguration of an upgraded and state-of-the-art mixing station.
A large number of honorary guests, including representatives of the local government, industry associations and customers, attended the ceremony that was took place on a bright and sunny day in Shanghai.
The ribbon cutting ceremony was attended by the Qing-Pu vice-mayor Xiangjun Ni, Han Wei from the Chinese Metal Powder Alliance (CPMA), Li Jianhe from the China Machine Powder Metallurgy Industry Association (CMPMA), CEO Fredrik Emilson and Mark Braithwaite, President APAC.
"The Chinese PM Industry of today is considered as one of the world's most advanced. It is our ambition that this upgraded mixing facility will play an integral part of the continued success of the PM industry in China," Fredrik Emilson said in a speech.
The vice-mayor of Qingpu, Xiangjun Ni, congratulated Höganäs and said: "Höganäs was one of the first foreign enterprises to establish itself in Qing-Pu. We are delighted with the continuous development of Höganäs and would like to express our best wishes for the future.
"Höganäs' new mixing station in Shanghai is now the most modern plant in the Höganäs Group. The plant will have a high level of automation and the new equipment that have been installed will increase both safety and capacity.
"We have substantially upgraded the material handling process from when the powder comes from Sweden and to when it shall be delivered to the customer," says Richard Molin, country manager for South Korea and head of Asia-Pacific operations. "We have put in our latest technologies in the new mixing station to significantly increase capacity and improve safety."
In 2014, Höganäs inaugurated another state-of-the-art mixing station in Busan in South Korea.
"Basically, we have the same type of equipment in Shanghai as in Busan, but in Shanghai we have taken it to a higher level. Höganäs now has two plants in Asia that can be considered best practice for the Group when it comes to mixing and material handling," says Molin.
Charlie Chu, who for more than three decades served as general manager at Porite Taiwan, a Japanese-owned powder metallurgy specialist company, has been a key customer of Höganäs' for a long time.
"Metal powder may look simple, but the mixing quality is very important for all users. When Höganäs started here in Qing-Pu 25 years ago, I was visiting this plant and I saw what they would be able to do in China. Much has happened since then and much has also happened in China with the growth of the automobile industry. I am certain that this upgraded mixing station will be good for the whole PM industry in China," Chu says.
Zhirong Zhu, General Manager at NBTM New Materials Group, a China-based company engaged in the production and sales of powder metallurgy machinery parts and soft magnetic materials, says that "the establishment of Höganäs in China 25 years ago was very helpful for China's PM industry. And 25 years later, when Höganäs upgrades its mixing station, it brings new big opportunities for China's manufacturers to also upgrade its own products."