The team at Höganäs Brazil saw an opportunity to turn rainwater into a resource and thus decrease the need for fresh water in the production processes. The solution was to develop and build a water treatment plant which returned almost 300 cubic metres of filtered water during the first months of operation.
Fresh water availability is a critical issue globally and according to the World Health Organization (WHO), two billion people live in water-stressed countries. Since fresh water is a basis for thriving societies and healthy ecosystems, we must use it responsibly. At Höganäs we aim to minimise our use of fresh water. Therefore, we use sea water for cooling in our processes when possible. But there are other ways of decreasing fresh water use. On World Water Day, Höganäs inaugurated a water treatment plant at our plant in Mogi das Cruzes, Brazil. It will collect, store and filter rainwater to make it usable in our production processes.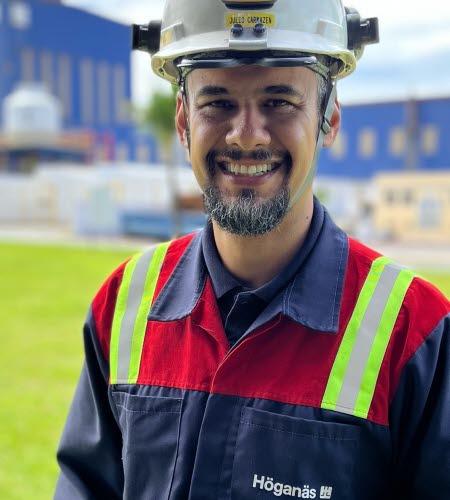 "Since responsible consumption of water resources is a challenge, we saw this as a way of using rainwater, filter it and make available for the process in our plant. Our factory area is extensive, with large buildings and roofs, and rainwater would simply go away without recovery. We found this as a waste of resources," says Julio Carmazen, Industrial Director, Safety and Environment Department.
The water treatment plant is formed by a cistern and two tanks. It uses ozone generation and zeolite filtration, besides automated absorption, to filter the water. It has the capacity to store 300 cubic metres and will be able to reuse approximately 43,000 cubic metres annually. This will lessen the demand for fresh water use as well as saving energy equivalent to up to 2.5 tonnes of carbon dioxide emissions from the ground water pump.
"The project was completely done in-house; our process engineering team was responsible for dimensioning the structure and treatment method was developed together with homologated suppliers," says Julio.
The results from the operation of the water treatment plant have been very positive. In the very first months, it had a return of almost 300 cubic meters of water, and the demand for water from the ground water well has decreased significantly.
Saving fresh water

The water treatment plant filters rainwater and by cleaning it, the rainwater can be used in production processes instead of fresh water.
It has a capacity to filter 118 cubic meters of water per day.
In the first couple of months the water treatment plant has returned 300 cubic metres of water.