A partnership between Höganäs and Piab is set to make additive manufacturing more sustainable and efficient for customers
Höganäs and Piab have formed a partnership to leverage their respective areas of expertise with the goal of advancing automation in additive manufacturing. Together, they offer and develop new solutions which minimise metal powder waste while improving process efficiency and safety. The solutions are set to optimise industrial printing processes.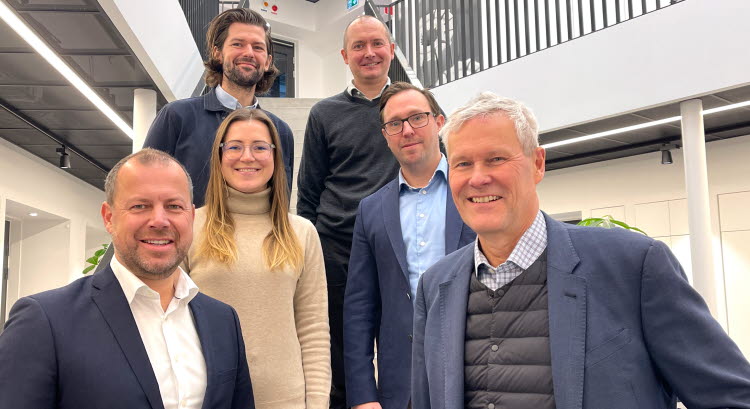 From top left: Anton Kullh, Chief Technology Officer Piab, Denis Oshchepkov VP R&D Application Höganäs, Laura Katinaite, Director Product Management Vacuum Conveying Division Piab, Mattias Berg, R&D Director, Vacuum Conveying Division Piab , Floris Rouw, President Vacuum Conveying PIab and Kennet Almkvist President Customization Technologies Höganäs.
In many industrial 3D printing applications, manual handling and loading of materials are still common practice. That is why Piab and Höganäs are working together to introduce a new range of solutions that will enable customers to implement improved automation and optimised printing processes in order to save time, reduce waste, improve efficiency and secure a safer working environment.
Conveying metal powders poses specific challenges, such as the high bulk density and other material characteristics. Höganäs has extensive knowledge of metal powders and material containment solutions, which will be combined with Piab's existing products, such as the piFLOW® range of vacuum conveying solutions, to optimise both material handling processes and to develop new industrial-scale solutions. This also contributes to a higher level of operator safety.
Today, the partners are offering bespoke solutions for metal powder management which are based on existing piFLOW technology. These solutions are printer agnostic and can be used in multiple applications during the printing process, including filling the 3D printer with the virgin or reclaimed metal powder, filling the sieve or hopper, or reclaiming the excess metal powder for reuse.
The goal with the new common development projects is to make the conveying of bulk metal powders even safer and easier, and to ensure that excess powder can be reused immediately which reduces waste and helps to improve sustainability performance. Not only is waste disposal reduced, but the amount of powder used is maximised, allowing manufacturers to make more with less. This new line of standardised technology will help further industrialise AM production and facilitate large scale manufacturing and industry 4.0 plans.
"Through this partnership, we can offer our customers better, more sustainable ways to work with their metal powders," says Kennet Almkvist, President Customization Technologies Höganäs. "It's also a big step forward in the industrialisation of these processes, as it removes elements of manual handling while optimising the amount of powder that's utilised in the printing. Piab has a long standing legacy in providing world-class automated conveying solutions, and together with our metal powder expertise, this range of products will make a real positive difference to our customers."
The solutions cater to a range of additive manufacturing technologies, including powder bed fusion, binder jetting and laser sintering. This means they can be integrated into almost any metal powder-based production process.
"Höganäs is a true pioneer when it comes to metal powders," says Floris Rouw, President Vacuum Conveying Division at Piab. "With this joint offering, customers can benefit from a combination of Höganäs´ powder expertise and our conveying solutions that improve automation and, in turn, efficiency."
More information
For more information, please contact:
Höganäs
Emma Lefdal, VP Marketing and Corporate communication
+46 42 33 80 00, emma.lefdal@hoganas.com
Piab
Kajsa Blixth, CMO
+46 761 408699, kajsa.blixth@piab.com
About Höganäs

Höganäs is the world leader on the market for metal powders with a yearly capacity of 500,000 tons. In close cooperation with customers, Höganäs develops tomorrow's solutions for automotive components, electrical motors, brazing, surface coating, additive manufacturing and sustainable water treatment. Höganäs operates 17 production centres across the globe and has a workforce of 2,400 employees. The turnover for 2020 was 8,645 MSEK. Höganäs, which was founded in 1797, is owned by Lindéngruppen and Wallenberg owned FAM.

About Piab

Piab is evolving automation through progressive gripping, lifting, and moving solutions and has done so since 1951. We believe in an automated world where no resources are wasted, and no humans are injured. With annual sales of ~1.7 billion SEK, 700 employees and a global presence in more than 100 countries, we help our customers improve their operations for the better on a daily basis. Since 2018, Piab is owned by Patricia Industries, part of Investor AB.