This is how powder bed fusion works
Powder bed fusion (PBF) is a common metal additive manufacturing process. The powder bed fusion process includes thermal energy, a heat source in the form of a laser or a thermal print head that consolidates material in powder form to create three-dimensional (3D) objects.
The heat source is applied to particles contained within a powder bed, which is slowly lowered as each layer is completed and new powder is spread over the build area. The powder bed is the actual build area in which feedstock, that is the bulk raw material is deposited. A thin layer of powder is spread across the completed section and the process is repeated with each layer adding to the last. After a few thousand cycles, depending on the height of the part, the built part is removed from the powder bed. When the 3D printed model is complete, unused powder is automatically or manually removed and may be reused.
Powder bed fusion processes such as selective laser sintering, selective laser melting and electron beam melting are classified as metal melting processes and all use a build platform containing powder material. These powder bed fusion processes share the basic principles of all additive manufacturing processes, for instance layer-by-layer fabrication with input from 3D model data. Powder bed fusion also shares common additive manufacturing advantages such as cost-effective customisation and reduced assembly.
Höganäs' portfolio for additive manufacturing includes a wide range of powders well suited for powder bed fusion techniques.
Contact us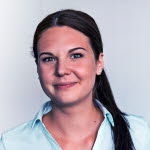 Sales & Technical support
Contact your sales representative for more information and requests.
Contact us
Technical area:
Additive manufacturing
Field of work

*
CEO/owner
Purchasing
Design engineer
Business developer
Machine operator
Other
Privacy policy
I agree that Höganäs can handle my personal data in order to contact me. My contact information may also be used in marketing purpose, such as newsletters and other relevant information. The data will not be shared with a third party. With my consent, I also confirm that I am over 16 year old.
More information about how we handle personal data can be found in our privacy policy.
You must accept the terms of service before you can proceed.